sun sign forecast 2020

The big news for 2020 is an alignment of planets in Capricorn that trine or will trine the planet Uranus, the planet of change on a global scale. To fully understand this is to put it into the context of when Saturn first went into Capricorn which is 2017.

So to explain the forecast of 2020, I will start with three years that lead up to what will be a climatic point December 20, 2020.

To put 2020 in context we need to start with the forecast of 2017 when Saturn was in Sagittarius trining Uranus in Aries, the sign of new beginnings. It was then the beginning of a collective awareness of a need for change. We as a planet are living differently: the way we shop, the way we communicate and the way we get information. This year was preliminary to when Saturn would move into Capricorn in 2018.

In 2018 Saturn moves into its own sign of Capricorn. Saturn represents structure, institutions, government and authority in general. When saturn then moved into Capricorn it then commenced the beginning of a new skeleton, a new framework for how we live our life. As Uranus, the planet of change trined Saturn took place, new information came to the surface. Cover ups came into exposure. The question arose: Who are we? What have we become?

In 2019 Saturn trined Uranus in Taurus and the change in how we exchange currency came into focus as Taurus rules money. The sign of Taurus is the bull. This trine also brought to the surface investigation of beef. The awareness that perhaps it is not as good for the body as we had previously believed. It also came to light that the reason the rain forest is being destroyed is to satisfy our appetite for beef.

In 2019 the north node was in the sign cancer which sextiled our planet of change, Uranus. It was the year as was also part of 2018 that women stood up and told their story. Again truths were brought to the surface.

Astrologer Ray Merriman refers to these years as the years of the big set up... a time of change, a time of exposure. Capricorn represents accountability. As we move towards an alignment of planets in Capricorn that now includes Jupiter we see four planets in Capricorn in alignment trining Uranus, the planet of change for the winter solstice of 2020. This is a time of deep reflection for big changes.

But what is this all leading up to? Remember after Capricorn comes Aquarius. Capricorn is the seedling of the new world in Aquarius, the new organism.


2020

So now in 2020 we are moving away from adjustments in our attitude to building a structure. The cement blocks of a new structure will commence. Last year when Jupiter was in Sagitarrius we tended to be free with our expenditures, however, Jupiter is in Capricorn now and it's time to pay the bills.

The heads of governments are vying for world dominance more than ever. I believe this will escalate from a July to December as mars stations into the aggressive sign of Aries. We are approaching a global time where we either transform with the changing time or surrender to a different kind of life.

Expect major changes and reforms to rebuild projects in government and economies throughout the world. The message for 2020 is PLAN WELL.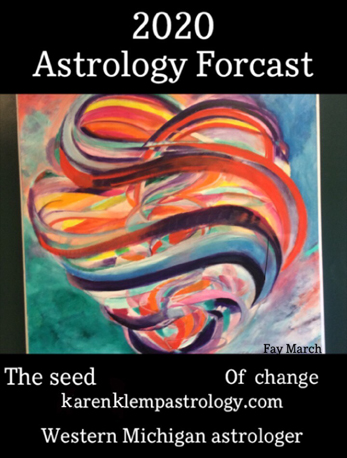 The painting for 2020 is created by artist Fay March of Grand Rapids. It represents all of the changes we are experiencing in the world today. It is but a planted seed representing a world of new structure and hope for a more unified existence on the planet.
Aries people are usually the movers and shakers of our community, however, the last two years have slowed Aries down due to Capricorn squaring it. Saturn will temporarily be leaving Capricorn May 21 to July 1st as it moves into Aquarius. That is a much more favorable time until Saturn moves back into Capricorn July 2 - December 17, 2020. When Saturn is in Aquarius Mars will also be in Aries starting June 27 until January 2021. The plans that were thwarted in the past couple of years will move forward. The thing that might prevent financial gain is if you spent too much money last year when Jupiter was in the neighboring fire sign of Saggitarius.


RELATIONSHIPS


Because Mars is in its own sign of ♈️ the second half of the year, which is unusual for it to stay in one sign that long, will have a lot of energy and charisma to have life go your way in relationships.

Because of the Capricorn influence this year there may be a large age difference in your romantic relationships. Times when romance is most prominent are February 7 - March 4, September 6 - October 2, and December 15 - January 8, 2021.



All of the distant higher octave planets make favorable aspects to the Taurus sun in 2020 with "new surprise" energy of Uranus being in Taurus trining the Capricorn ♑️ energy of Pluto, Saturn and Jupiter, you have great ideas on how to make money... Dare I say "Everything you touch turns to gold?" Let's just say you have abounding opportunities opening up to you that will carry you for around 6 years. Tauruses born between April 21-30 will be most effected this year.

Many of you already started a new project a couple years ago and it should be developing nicely and it will continue to prosper. Having the trine to all of those Capricorn planets should create powerful management skills to help you achieve your goal.


RELTIONSHIPS


Your energy is very magnetic, however, trust your intuition to guide you in deciding who to trust and who is trying to take advantage of you. You may discover you are a different person than you were a couple years ago and want different things for yourself. You may need to pace yourself as many opportunities could evolve. A relationship that fit in the past may not suit you anymore.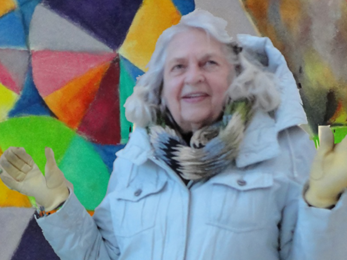 The artist for "Seed of Change" is Fay March, a resident of a Grand Rapids. Fay is known for her paintings in sacred geometry. Her work is shown in galleries around the country.
The major influence of Neptune in Pisces ♓️ continues a 14 year square to those who have their sun in Gemini of which six more years remains. Neptune square sun is about TRUST issues. You may be vulnerable to deception or cause mistrust by others. The key here then is to be honest and be cautious about the people around you. With mars moving into Aries June 27 a favorable sextile comes into play which can easily coincide with new ideas in business. Both Venus and north node go into the sign of Gemini starting in June, giving you recognition for the work you have done.


FINANCIAL


This is a busy year for you. Your ability to look at situations at a different level will pay off. It is likely that there will be entanglements dealing with other people's money, possibly audits or tax strategies.

Some of these will work out while others may cause loss. It is wise to keep accurate records.

Both finances and relationships can be very profitable and exciting this year once you are clear on who you can trust and who is being deceitful.



In the first half of the year the north node remains in Cancer giving recognition to the work you are doing. The stellium in Capricorn opposite your sign shows that with this recognition comes greater demands on your time and a need to hold people accountable. Pluto opposite sun sign suggest power struggles in relationships. Try to understand the other persons point of view. The trine with Neptune suggest that you have the ability to empathize with others and will be able to find a common ground.

Uranus in Taurus sextiles or strengthens your ability to be original and creative. This energy will effect you for six more years. It is a year of opportunities and challenges. It is a year of new ideas and insights but also greater demands on you.


FINANCES


It is a favorable year for investing as long as you are not influenced too much by other people. Do your own investigations and beware of power struggles especially February 16 - March 30 and June 27 - January 7 2021 (These are times when Aries square could bring conflict). It is wise to avoid confrontation during these times.

Transformation continues with you both personally and professionally. Your personal magnetism remains high this year but also your need to hold people accountable. Be very careful with confrontations.



This is a year of continued adjustments. Projects do not flow easily, however, when completed they serve a purpose. You just wish it were finished. With each goal met more demands and responsibilities arise. It is a time you need to learn the word "no." Matters improve quite a bit when Mars enters Aries in late June to the end of the year. This will give you the desire to start something new. Uranus in Taurus remains until 2026. This squares your sun bringing unexpected news both positive and negative.


FINANCES


Because of the Uranus square of Taurus it is not advised to speculate but rather to hold on to what you have and protect your capital in case of sudden emergencies.

The key words for Leo's this year is change and adjustments both positive and negative with both finances and relationships.



Being a practical earth sign fares well this year as all the planets lining up in Capricorn strengthen you to complete your projects and be recognized for your hard work. Uranus, also being in an earth sign of Taurus implies that people will most likely look at you in a new way, as someone who is polished and professional. People now look to you for advise as you are highly respected for your abilities.


FINANCES


This is a favorable time to consider long term investments, whether equities, treasuries or real estate.

You may be involved with a project where you are tearing down an existing structure and building a new more applicable project.

In both relationships and business beware of unreliable information. Neptune in Pisces creates a square or conflict so be cautious of untruths, however, Virgos are known for their attention to detail.

So check your information before moving ahead.

You maybe considering a change in your appearance during this time. It is a time when change is profitable. Some of you have already made these changes. Whatever the change is, it turns heads and people are noticing a more polished persona.



Libras... whether it's your sun sign or ascendant sign, are being put to the challenge this year as well as last year to balance home with work and family. Because Saturn in Capricorn has an association with the elderly and it is squaring your Libra, there is a chance that you have an elder living in your home or are dealing with an elder that effects the home. Because Jupiter is now in Capricorn now as well... Jupiter meaning expansion... someone else could be joining your home.


FINANCES


This is the year you sit with pen and paper to decide how much money and time you set aside for home, work and friends. There are opportunities that will arise this year, however, to make it work you need to make life altering decisions with regard to home and career. Things are changing. It is a year to learn how to juggle.

Because of all the changes this is not a good year for speculation. There is a need to be frugal and asses expenditures.

When Saturn briefly enters Aquarius in a March through July will be a time of meeting new people and making new friends. This could initiate a new love interest as you will be very attractive to the public at this time. Best time for romance? April 13 - August 7 and October 27 - November 21.



All of these planets lining up in Capricorn are creating a sextile or supportive energy for 2020.

This support will aid you in being tightly organized taking on challenges at home and in the workplace. The more organized you are the more you accomplish.

With Neptune trining your sun your intuition will be right on. Your vision of what you want to happen will take shape.
FINANCES
As last year you are still in a favorable financial cycle. Others are impressed with your ideas. It is a good year to write a book or take on speaking engagements. Financial gains are possible with investments as well as your own personal income.

Relationships developing or being initiated through travel comes into focus. You have a powerful healing energy that truly empathizes with people. There is a good chance that this energy will be reciprocated this year. If you can, travel this year as relationships open up with travel.

Best time for romance: January 13 - February7. August 7 - September 6 and November 21 - December 15.





This year is the year to handle your money, evaluating what you make and what you spend as Capricorn stellium is in your solar 2nd house of finances. Neptune in Pisces lands on your solar 4th house. Neptune can mean water so check out your plumbing in your house or pool as repairs may be needed. Pisces is a square so there may be a problem there. Pisces can also mean disillusion when squared so there may be inaccurate health evaluations or inaccurate information in your work or relationships.


FINANCES


Avoid if you can loaning or borrowing money until July. This is a year of reflection for you so set yourself up so that you can minimize financial involvement as much as possible. Starting in July Mars stays in Aries until the end of the year. This should be a time when you have increased energy to get matters settled. Opportunity clears up starting in July.

You can make money in 2020. Just be very cautious that money going out does not exceed money coming in.

Relationships are better the second half of the year when mars is in your solar 5th house. Throughout the year issues of trust are prevalent. So it is important to be trustworthy and level headed in both business and personal affairs.

Best time for romance: February 7 - March 4. Sept. 6 - October 2 and December 15 - Jan. 8, 2021.



With the planet Jupiter joining the alignment of planets in Capricorn there is new opportunities for Capricorns. Confidence runs high, while personal and financial gains are most favorable.

However, part of that alignment of planets is Pluto and Saturn. They are heavy hitters when it comes to lessons and accountability. Right now your changes have changes and if handled properly could incur benefits socially and financially. The key is to pace yourself. Be cautious to eat properly, get your check ups, exercise, rest as well as plan for work. If you can stay balanced this could be a profitable year personally and professionally. If you overdo it the result could instead be anxiety and fatigue.

It is a time to clearly define your goals so you can organize your time. Give yourself time to be alone and evaluate your life and also time to socialize and get valuable feedback on what you are doing.
FINANCE
Your investments will come to full fruition in 2 - 5 years. Right now, with both Jupiter and Saturn in Capricorn, it is a good year to take on new projects to bring into the mix. With careful planning and detailed analysis you will do well this year.

In relationships you may be more popular than ever yet you also may feel alone as you are going through so many changes that may not be understood by others around you. Charisma and magnetism is strong.

Periods that most favor romance: March 4 - April 3 and Oct.2 - Oct.27.





This is a turning point year for you. You are behind the scenes watching all the changes that are going on (as the Capricorn stellium is in your solar 12 house). You may feel invisible, unable to effect the activities around you, so you just watch and wait.

However, all that changes near the end of the year when two planets, Jupiter and Saturn (the planets of opportunity and manifestation), move into Aquarius. Uranus, your ruling planet, now squares your sun which bring new changes in your life and the understanding that you can finally do what you want to do. So a change in lifestyle could be on the horizon. You will need to be ready to work and be organized to to make this shift. You could be changing jobs or or direction in school, depending on your age and life situation. If you resist the change, your opportunities will be short lived. It may involve a move and you'll ask yourself, "Is this really where I want to live?"

Help and energy to make such decisions may be easier when Mars stations in Aries at the end of June to the end of the year. This is a supportive se tile which may help you to become more active and decisive. People around you will also take more notice of your talents.
FINANCES
It is likely you change jobs or interests this year. Before you accept the change keep in mind the consequences as well as the benefits. Finances are a matter of highs and lows, however, this changes at the end of 2020. Then direction will be clearer. Before that time it is best to reamain as stable as possible to pay the bills.

In relationships you are always pretty lucky, however, you are going through a personal revolution... perhaps even a time of a new identity of some sort. Allow yourself time to reflect on what you want for the changes that are ahead of you.

If you are in a committed relationship, it may be challenged as you are going through changes. Whether you are in a relationship or not you will find yourself among very strange or eccentric people that offer great excitement.





Neptune's 14 year transit through Pisces continues for the next 6 years bringing you dream-like conditions that favor the arts. Your willingness to help other people is valued and appreciated. Your intuition is at an all-time high. The negative attribute of Pisces can also be prevelant... that is confusion and addiction. It is important then to be conscious of where you put your attention right now.

The more organized you are the more you can use this Neptune energy in a constructive arena.

It is important that your work environment is relaxed as you are highly sensitive to negative energy right now. Stay away from situations, movies, environments and people that have negative energies.

Put your attention on visualizing exactly what feeds you emotionally, financially, physically and spiritually. Allow yourself time to visualize the ideal situation for you.

Many of you are experiencing original ideas... perhaps an invention. A positive outcome will most likely take place if you involve groups as the Capricorn stellium is in your 11th solar house. Your ability to read other people's needs are at an all-time high right now. This can benefit you in all areas of your life.


FINANCES


The key to financial success is to visualize what you want and stay away from negative energies. If you keep yourself centered your intuitive and creative abilities will pay off... especially in the arts.

In relationships you may be more romantic than usual. Your sweet and gentle ways are magnetic to those around you. Interchanges in groups prove to be beneficial and appreciated by all.

It is a time of making new friends, young and old, that you learn from and they appreciate you as well.

Be careful of being too trusting. If you stay centered your intuition will tell you who you can trust.
This is a very skeletal explanation of what people can expect in 2020 based on their sun sign. To have a more detailed reading based on your natal chart that tells me where all the planets were at the time you were born please contact me at (616) 916-0121 or by using the form link below. This is your west Michigan astrologer Karen Klemp.
Schedule Your Reading
---