Meet Karen
Karen Klemp is an internationally respected astrologer and intuitive counselor who resides in West Michigan. She has given lectures at colleges, libraries and currently at Unity in Grand Rapids, Michigan. She has been in practice since the early nineties.

With four personal planets in Cancer at the Midheaven and Neptune on her ascendant, Karen combines mysticism with practicality. It is her goal to give a down to earth approach with her clients to live the most abundant life possible. Usually people come to her when in crisis or when they need help making a decision. Often couples want to know more about their relationship. Being "in love" is really about having a deep karmic relationship with one another. Karen gives them a deeper understanding of their bond. Parents and children to business partners gain from Karen's knowledge of their relationship through an astrological analysis.

You can consult with her by phone, Skype, or in person at her home 15901 Leonard Rd Spring Lake, MI 49456.
About Karen Klemp Astrology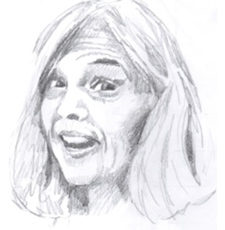 Karen Klemp has an MA from Cleveland State University
Karen Klemp is an astrologer and an artist. She has been consulting with clients nationally for over twenty years. You may remember her from her previous office above Bombay Cuisine in Eastown of Grand Rapids or before that when she rented a room at the old Spirit Dreams back in the early 90s. She has since then lectured at colleges, done mini readings at solstice celebrations and served clients in person and on the phone or Skype.
---
did you know?
A message from Karen:
"I call my work an intuitive counsel because meeting with me is a lot like seeing a therapist except I know all kinds of stuff about you before you walk in the door. My goal is to counsel you towards greater insight and help you to develop strategies so you can help yourself. I work with individuals and couples. I love what I do!"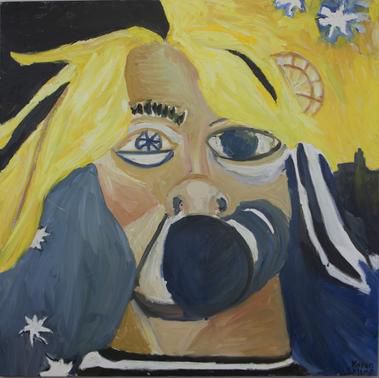 Karen Klemp's Self Portrait
Testimonials
I met Karen Klemp over 20 years ago and was immediately drawn to her. She offered me a reading and I was amazed at her ability and her assessment of my life's trajectory. Karen is not only gifted, but loves what she does. I have found Karen's readings especially uplifting and I always have a Solar Return reading just before my birthday. I rely on her guidance to "get a bird's eye view" of the coming year. She's been there with inspirational advice through the ups and downs and the "look out for the pot-holes" energy that shows up in my readings. She has an uncanny way of opening up my eyes to the many wonderful options and explaining what she sees and it's meaning. Karen has become one of my "secret weapons" for planning and maneuvering through my life. I can not recommend her enough! Grand Rapids, MI grandrapidstherapycenter.com
Karen Klemp has been an astrologer and astrology student for many years. She first did my chart over 12 years ago and every year since. Her readings have given me a deeper understanding of universal energies and teachings. Not only has she given me guidance, but also sage advice. Karen studied with some notable astrological teachers and integrates what she learns in her readings with her own clients. I recommend getting a reading from Karen for further insight into another aspect of your existence here and understandings that may enhance your life.
Seattle, WA
Convincing a skeptic can be tricky business. Karen has never hesitated to recognize my skepticism when she offers her insights gleaned from her deep understanding of astrology and numerology. What makes her especially remarkable is her ability to interpret the information in a way that even a skeptic like myself can embrace as well as the depth of her conviction that what she shares is intended to be given with love and accepted with grace. That is a remarkable gift she offers to believers and skeptics alike. Washington D.C.